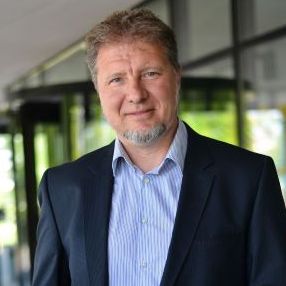 Константин Конов е завършил Технически университет в София като магистър по компютърни науки. В ИТ бизнеса е повече от 24 години. През последните 15 години заема мениджърски позиции в компании като Citibank (ръководител на технологиите), HP (директор на Центъра за глобални операции), Luxoft (управляващ директор) и сега в Bosch, където е управляващ директор Бош Инженеринг Център София.
Konstantin Konov  graduated in MSc in computer sciences from Technical University of Sofia. Konstantin is in IT business for more than 24 years. In the last 15 years he has been working on executive level in global corporations like Citibank (Technology Head), HP (Director of Global Operations Center), Luxoft (Managing Director) and now Bosch Engineering Center in Sofia as a Managing Director.
The Bosch Group has been present in Bulgaria for more than 25 years in 3 subsidiaries – Robert Bosch EOOD, BSH Domakinski uredi Bulgaria EOOD and Bosch.IO.
In 2019, Bosch Group in Bulgaria generated a turnover of 152 million euros.
At the beginning of 2019, as part of Robert Bosch EOOD, a new Bosch Engineering Center was open in Sofia. Its activities focus on software and hardware development of technologies for the automotive industry such as driving assistance, automated driving, and electric mobility.
The basis for the company's future growth is its innovative strength.